Cyxtera – Cybersecurity Thought Leaders and Technology Innovators
Does protecting your infrastructure in your data centers, your premises, mobile devices and in the public cloud cause you sleepless nights? Do you worry about how to secure mobile users once they leave the company? Today's IT domains run in more locations, on more platforms, and with more diverse models than ever before. Enterprise IT is dynamic, distributed, and deeply interconnected.
The biggest challenge today's companies face is protecting their infrastructure from cyber-attacks. In the telecommunications and IT enterprise world, there is a colossal need for cybersecurity that meets the demands of a dynamic IT world. Cyber threats are ubiquitous in all industries, yet cybersecurity is stuck in 1990. Today's technology is advanced and competitive, yet too many providers are applying yesterday's security technology to today's IT—hardware-centric and inflexible in an API-driven universe and perimeter-focused in a world without boundaries. The same old cumbersome, expensive firewalls—with thousands of static rules—are trying in vain to secure a world in constant motion.
Age of integrated security
Simon West, Cyxtera's Chief Marketing Officer states, "Look at the advances we made in infrastructure in the last ten to fifteen years. We have made revolutionary advances in the availability, agility and scalability of our infrastructures. The way in which applications are protected from an access control network security prospective is fundamentally the same as it was at the dawn of the internet twenty years ago. It is predicated on hardware in a software defined world. A perimeter in a world where the perimeter no longer exists. Applications, infrastructures and users are everywhere. The next great age of enterprise IT has to be predicated on a better integrated, more modern, adaptive, and intelligent infrastructure security. Our customers have been very perceptive to that and very interested by what we can bring in and integrate, with just a cross connect away, into these global data centers."
Cyxtera is in locations on five different continents and 29 global markets. They are a global leader in colocation with 57 world class data centers worldwide located across the US, United Kingdom, Germany, Australia, China, Hong Kong, Japan and Singapore, plus they have:
Top 3 global colocation market share
6M sq. feet of data center space
195 megawatts of power
3,500 customers
1,100 employees
They are headquartered in Miami with offices globally with experienced leadership in infrastructure and security. They have combined IP and market leadership of Cryptzone, Catbird, Easy Solutions and Brainspace, and expertise in identity-centric security and advanced threat and behavioral analytics.
A new kind of data center and security company
Cyxtera brings world-class infrastructure and modern security together making security as agile, scalable, and resilient as today's infrastructures and applications. They are hybrid-ready, cloud native and cloud-agnostic.
In May 2017, Cyxtera brought together five different businesses. They acquired a platform of 57 world class data centers in 29 global markets and four security companies each dealing with a modern software defined approach to various aspects of security. They provide more than 3,500 customers with a secure, global platform for their mission-critical applications and systems.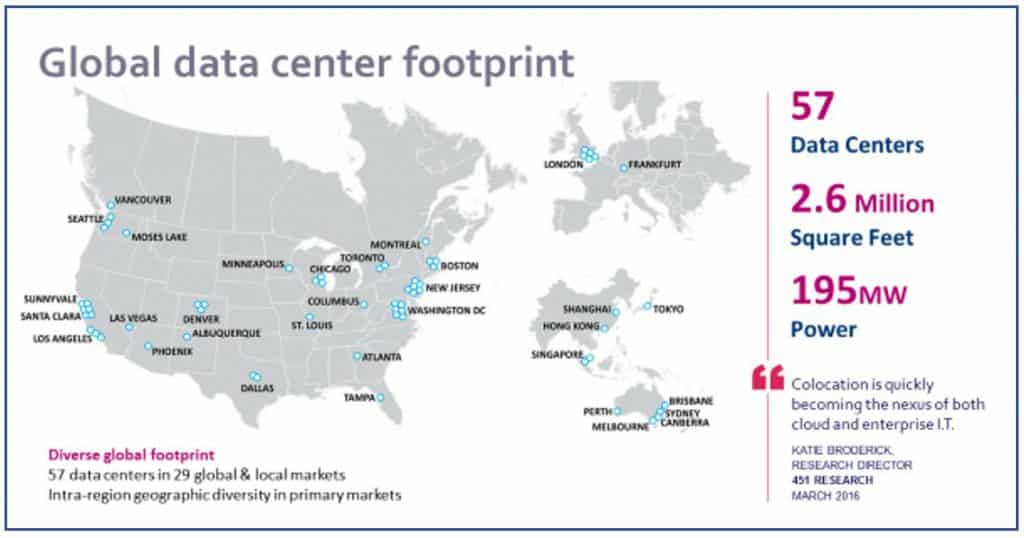 A new kind of data center company:
with security integrated as a core service offering into the facilities that sit at the nexus of enterprise IT and the cloud.
A new kind of security company:
with solutions built for the way customers run our applications today.
Cyxtera's vision:
Cyxtera's vision is to provide a secure global infrastructure platform that can host companies' colocation infrastructures in their data centers throughout the world and provide a single security control plain for access control to protect their infrastructures in not only their data centers, but also the customer's premises and the private and public cloud.
Cyxtera offers a full suite of security services. Cyxtera's security services are cloud-native and hybrid ready. Customers can run hybrid architecture, on site, or a global network of colocation facilities and the public cloud. Cyxtera's security capabilities and software defined perimeter product, AppGate, will run on customer premises, or natively on leading cloud providers such as Amazon web services and Microsoft's Azura. No matter where they run their infrastructures, they have one single method of agile, adaptive access control to protect their infrastructures and applications.

The Age of Infrastructure Security:

Are you still stuck in the '90s and just protecting your network with firewalls?
Is the agility of your network stuck in 2005?
How is your scalability? Is your IT API driven?
Are you protecting your infrastructure from cyber threats with world class technology?
The Secure Infrastructure Company
In summary, Cyxtera cybersecurity controls access, authentication and analytics, on premises or in Cyxtera data centers.
Dedicated
Colocated
Private cloud and public cloud
A global footprint of world-class data centers
Adaptive and intelligent cybersecurity and powerful analytics
Available as software to extend security on premises and into public clouds
Specialty services for financial services and federal government sectors
The 2017 state-of-the-art cybersecurity answer is here. So, decide now. Do you want to have sleepless nights worrying about your infrastructure, or do you want to sleep with confidence in knowing your infrastructures and security are in the hands of the number one cybersecurity company and second largest data center in the world?
About the Author:
Benjamin Von Seeger is the newly appointed VP of Global Network Service Providers at Cyxtera Communications. He is an entrepreneur, frequent C-suite member and telecommunications expert with twenty years of global business experience. He speaks five languages and graduated with degrees in Business Administration and International Relations from Ludwig Maximilian University in Munich Germany. He is attending the Advanced Management Program, Business Administration and Management, at Harvard School of Business. His Axiom Business Award winning book, The RiVal: Play the Game, Own the Hustle, Power in Competition, Longevity in Collaboration, draws on vast personal experience and proven philosophy to inspire a new generation of businesspeople and students. Visit his website: BenjaminVonSeeger.com and follow Ben on Twitter: @benvonseeger.
Unless otherwise noted, opinions expressed are solely my own and do not express the views or opinions of my employer.